THE DAVENPORT-CURTISS HOUSE and the Influence of William H. Davenport in Saline
Webmaster's Note: Robert Lane is on the Board of Directors with the Saline Area Historical Society. His article on the Davenport-Curtiss House on E. Michigan Avenue in Saline, MI, appeared in our local newspaper The Saline Reporter. Although it originally appeared in two segments, the article is reprinted here, in toto. Questions and comments can be addressed to Mr. Lane at

salinehistory@yahoo.com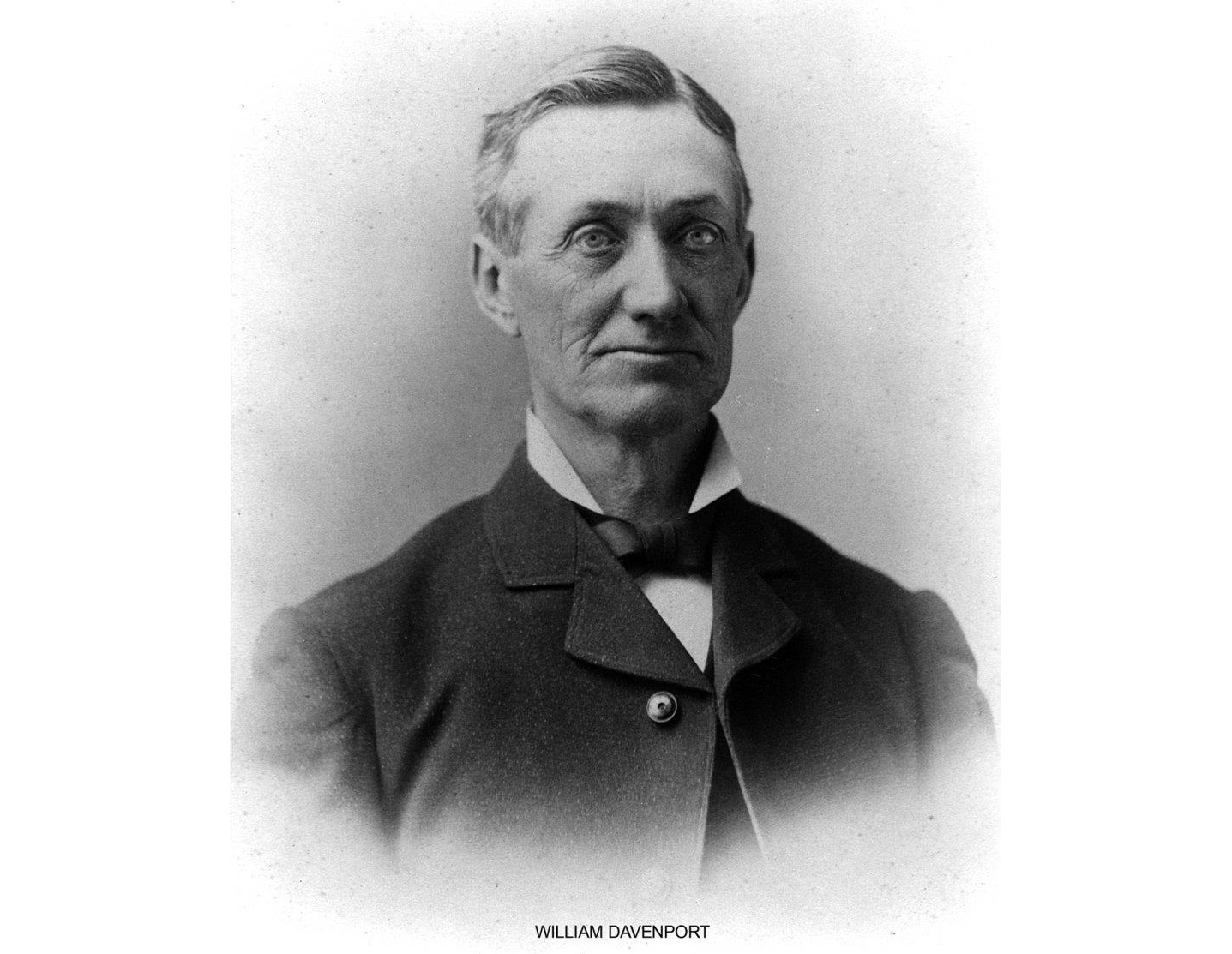 What is the story on that beautiful old home with all the land around it? During the years I worked at Cadillac Plant in Detroit, I was often asked that question when I told my co-workers I lived in Saline. I would try to tell what I knew. Now, there are people new to Saline who may be asking that question. This story is an attempt to provide history on who built and lived in that house.
The house was built by William H. Davenport. William was born October 23, 1826 at Batavia, NY. He immigrated to Saline with his parents Beverley and Gertrude about 1827. William went to Saline's first one-room log cabin schoolhouse. His name shows up as a student in the 1830s.
In the 1840s, he secured a position with Caleb Van Husen as a clerk. He continued as a clerk until 1851 when he commenced business for himself in a store where the Burkhart Building is today (next to the Brecon Grille). Soon after, he formed a partnership with Henry J. Miller and after they separated, he started his own business. For many years he conducted a successful mercantile trade, buying and shipping large quantities of wool and dressed pork. In 1863, he erected a three-story brick building at the northwest corner of Michigan and Ann Arbor St., (now lost) which he occupied as a place of business until he died September 3, 1909.
On November 6, 1851 he was married to Miss Zylpha P. Parsons and their union was most pleasant and happy. They had three children but only one, a son Beverley P., survived at the time of his death.
Instrumental in Getting the Railroad to Saline
After the Civil War, William became a leader in Saline's attempt to get a railroad. This led to his becoming a board member of the Detroit, Hillsdale and Indiana Railroad. The citizens of Saline raised $75,000 to get the railroad into Saline and on July 4, 1870 the first train arrived.
Forms Saline First Bank
Sensing great economic opportunities in Saline, William formed his first bank. He placed this ad in The Ypsilanti Commercial in 1871:
W. H. Davenport & Co Bankers; Saline Mich.
We buy and sell Government securities, Gold Coin, Drafts on Detroit, New York, Boston, and other cities. Also receive money on deposit, make collections and attend promptly to all business pertaining to banking. Money loaned to approved securities.
This certainly sounds like a bank. But during the Financial Panic of 1873, he apparently lost control of the bank or it went bankrupt in 1874. To pay off debts, he was also forced to sell his brick house east of Saline on Michigan.