ROADS TO MICHIGAN RAILS: Remembering the Railroad of Michigan
by Tom Wilson
This abridged version is from an article by the same name, published in Michigan Traveler, May 2005, pg. 8-11. Permission to publish on-line was granted to the Saline Area Historical Society by the author Tom Wilson and the editor Tami Mosher (Sept. 1, 2005).
When the alternating red lights start flashing and the black and white striped crossing gates drop, we drivers fall into two groups: the frustrated ones in a big, fat hurry, and the ones who relax and enjoy the exciting sight of a few thousand tons of railway hardware streaming by!
We fall in the latter category. The noise, the shaking earth, the panorama of the passenger cars rushing by! Or the colorful variety of freight cars with names from all over North America, from many different states and railroads, in a variety of functional forms: hoppers for coal and other raw mining products and cement and farm products and pelletized plastic, tankers for petroleum products, vegetable oil and other food products, giant auto racks carrying freshly-built cars, flatbeds for lumber or building products, and on and on. This is such an exciting sight, that it seems like a disappointment when the last car goes by, the gates go up, and silence returns to the scene. And it is even more of a disappointment now that trains end with no colorful little caboose, just an ETC (End of Train Device) secured to the coupler of that last car, with its rearward warning light and a transmitter that signals its continued presence, to warn of a separation in the train.
How many railroads do we have left in Michigan? Not too many! Two huge conglomerates, multi-mega-mergered monsters like the
Norfolk Southern
,
CSX
(what does that mean?), the
Grand Trunk
(little brothers of the Canadian National), plus the
Ann Arbor Railroad
,
T&SB
(Tuscola and Saginaw Bay) and perhaps another short line or two up north or in the western half of the hand.
It was not always so! The olden days of railroading in Michigan may not have been as efficient as today's few biggies, supplemented by billions of 18-wheelers (or larger) that seem to want to get right into your rear-view mirror while you are driving the roads of our scenic state, but those olden days were probably a lot more interesting! If you were driving around our state in the thirties or forties, you might spot locomotives, cars, and/or".YES'.cabooses from as many as 31 different Michigan operating railroads! You would also find road work crews, passenger depots, freight sheds, and maintenance shops, some with steam-era locomotive turntables, all built or owned by these railroads.
The 1948 C.S. Hammond Atlas shows the 31 Michigan railroads in red on our state map. Not easy to see, but the map provides the following list of railroads in the state: possibly up-to-date in the 1930s or later, depending on changes due to bankruptcies, mergers, acquisitions, etc.
Ann Arbor

Boyne City

Baltimore & Ohio

Canadian National

Canadian Pacific

Chicago & Northwestern

Chicago, Milwaukee, St. Paul & Pacific

Copper Range

Detroit & Mackinac

Detroit & Toledo Shore Line

Detroit, Caro & Sandusky

Detroit Terminal

Detroit, Toledo & Ironton

Duluth, South Shore & Atlantic

East Jordan & Southern

Erie & Mich. Railway & Nav'tion Co.

Escanaba & Lake Superior

Grand Trunk

Green Bay & Western

Lake Superior & Ishpeming

Ludington & Northern

Manistee & North-Eastern

Manistique & Lake Superior

Minneapolis, St. Paul, & Sault St. Marie

New York Central

New York, Chicago & St. Louis

Ohio & Morenci

Pennsylvania

Pere Marquette

Port Huron & Detroit

Wabash
That's it folks! Thirty-one separate railroads were busy enough to be on that list prepared in the 1940s!
If your kids like railroads, they will enjoy seeing busy rail crossings and activity in railroad yards or switching areas near industrial or passenger terminals. Sometimes railroads and related facilities have rules about not going on the property for sightseeing, and such rules should be observed, particularly where posted. One should NEVER cross tracks between standing railway cars, as they can suddenly move, pushed by a locomotive that is too far away along a string of cars to be heard. Children should always be held in hand.
Near crossings and the edge of properties, observers can see a lot, and in the case of certain railroad properties that have been abandoned, had their purposes changed, or have been developed as tourist operations, one can see a lot of fascinating activities and equipment. For this Auto-Phile, every road trip is a potential "train watching" trip! And in Michigan, there is quite a bit left to see, including a few places where there are no more rails! Let's take a little trip and cover what we can in our space in this issue of
Michigan Traveler
. (Web Master's note: at this point, the author's trip was abridged to focus on the southeastern area of Michigan, which includes
Saline
.)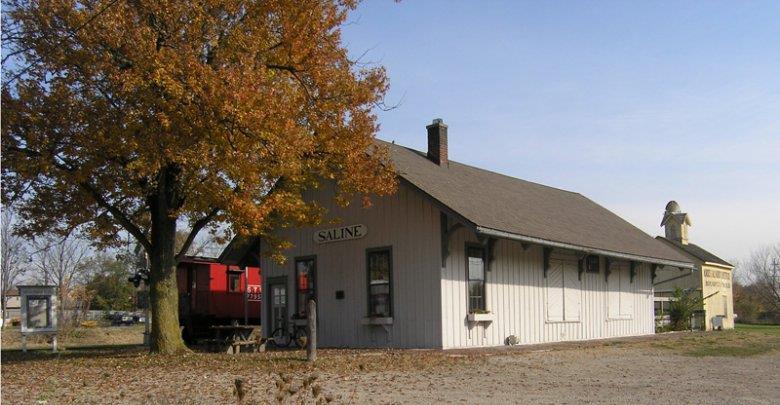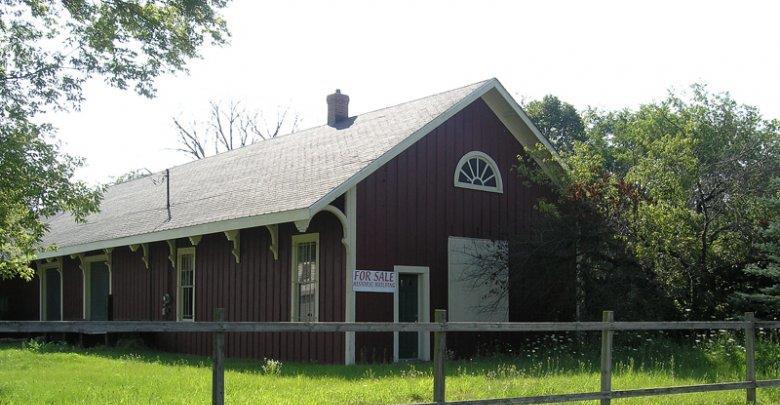 You can find Ann Arbor Railroad data and history doing a Google search on the internet. Readers can find more info on an avocational-historical site that can tell you more details than we can cram in here. Some refer to the AARR as the "biggest little short-line in the country!" Starting from a switching yard on the east side of Toledo, OH, the AARR picks up and drops off loads of freight and Jeep Vehicles from Chrysler's new "Toledo North Assembly" plant, then wends its way north through Temperance, Dundee and the Dundee Cement Plant, Azalea, Milan, and Ann Arbor. If you visit Milan, go south from the downtown on Wabash St. to the "Depot Town" area and you will still find the old Ann Arbor/Wabash RR (now "Norfolk Southern") crossing control tower with the name "MILAN" on it. In earlier days, AARR continued north through Whitmore Lake, Hamburg, Lakeland, Howell, Ashley (named after the man who built the AARR!), and points north.

Manchester: What? Manchester, a RAILROAD TOWN!?!? Yep, they were robbed! Get out your magnifying glass and inspect the old Michigan railroad map. You will see not just one, but TWO sets of trackage running through Manchester, MI. When you drive through Manchester, go west along the main downtown street and stop when you see the town's only supermarket set back a bit on your left. The two railway lines crossed right there! Where are the tracks? Where is the Depot? Manchester historians will have to fill us in on this one. It must have been a big disappointment to railroad lovers in Manchester, and even worse to agents and any maintenance people employed by the railroads in the town! The southwest-bound line, coded 130 on our railmap, was part of the New York Central, but we do not know if it was built by, or purchased by, NYC.

The line departed from NYC's junction in Ypsilanti, a rail line leased from Michigan Central RR Co. and went SE across Carpenter Road in eastern Ann Arbor, where its ROW (right of way) can still be seen adjacent to a cement plant on the west side of the road. From there, it went through Payeurville, where the tracks still exist as a branch of the Ann Arbor RR that serves the Ford cum Visteon plant in Saline's north end "Depot Town", wended its way west through open farmland to Manchester, and crossed Mill Creek a couple hundred feet north of the downtown on a RR viaduct, then on west to Manchester's now nonexistent Depot town. The map shows the line continuing west to such exotic ports-of-call as Brooklyn, Cement City, Hillsdale, Reading, and Angola, Indiana.

The other line through Manchester, apparently another NYC branch line, came southeast from Jackson, through Napoleon and Manchester, and then headed straight south through Clinton and Tecumseh, terminating at Adrian, joining with several other NYC links. We believe the portion of this route from Clinton down to Tecumseh comprises the same right-of-way, and perhaps a few tracks, of the Southern Michigan Railway, a little restored tourist-type line with a mixed assortment of old cars and a tiny diesel locomotive, running between Clinton and Tecumseh.

Cement City - Well, we now know that Cement City, MI is on what was New York Central's line from Jackson to Adrian. No more rails to CC, though! But the depot still stands! A few years ago, Mrs. Auto-Phile and I left the beaten path and followed the little sign that pointed us north from US-12 just east of US-127, between Somerset and Cambridge Junction to Cement City. Just as we turned left into town, we found the railroad right-of-way. Sure enough, there was a cute little railroad depot, turned into an antique shop still sitting there waiting, like it expected a steam locomotive to chuff on in and drop off a few passengers probably from a one-passenger-car train, or maybe a "mixed" train, i.e. combination freight and passenger cars! Not likely, though! no more tracks! Worse yet, no cement plant! Cement City does not look big enough to have a historical society, so the only way to find out about the history (loss) of the plant, quarry, whatever, would be to stop at the town's only open business, the tavern, and start asking questions. There may be no more old-timers left that remember this stuff, so this remains another Michigan road not yet quite completely traveled. Opportunity abounds.

: 2005 Tom Wilson, the "Auto-Phile". Reprinted with permission. Readers who wish to read the complete article should contact Michigan Traveler, P.O. Box 185, Breckenridge, MI 48615.